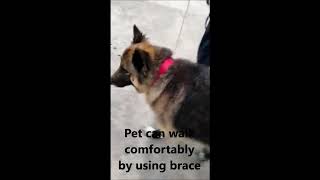 'Dodo' in action using Carpal Brace
This pet is Dodo. Dodo was suffering from Carpal injury. Due to this, he was not even unable to put his leg at surface. Because of the injury it become so painful. With the help of Carpal brace, he started putting leg on surface to walk, Brace holds a carpal area very tightly, and due to this, pet feel little strength to move ahead. Carpal brace specially made for carpal area injury. It helps as being power rehabilitation aid for the carpal injuries. It is useful for pain relief. Carpal brace generally gives the stiffness and good binding to the carpal area. By using this brace pet normally can walk and start the nerves circulation again.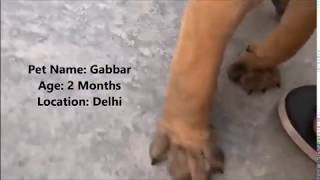 'Gabbar' in action using Carpal brace
This pet is 'Gabbar'. Gabbar was suffering from leg deformities. We have specially designed the product called Carpal Brace. This brace helps in different types of leg deformities and Carpal injuries. Carpal Brace helps in moving difficulties. Generally pet faces lots of moving difficulties during the leg carpal injury. It is hardest thing for them to move their bodies. By giving some helpful support we can at least minimize their suffering from these kinds of problems.